VISIT OUR OTHER WEBSITE BELOW

Spotted Seatrout fish taxidermy consisting of Spotted Seatrout fish mounts &  replicas.

The quality of our fish skin mounts and replicas of the Seatrout  species accurately resembles the natural shape & coloration of each fish.

Contact us for any questions related to Seatrout taxidermy.

Common names for this species - Speckled Trout or Weakfish.   

Below are images of Seatrout skin mounts & Seatrout replicas

CLICK ON IMAGES TO ENLARGE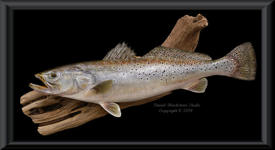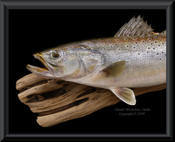 30 inch Spotted Seatrout - Skin Mount

Spotted Seatrout Skin Mount